Chris Tomlin Reveals More Information to His Forthcoming Album "Love Ran Red"
Ever popular Christian worship leader and song writer Chris Tomlin reveals details about his forthcoming worship album "Love Ran Red." The album will be released on October 27. Produced by longtime friend and collaborator Ed Cash, Love Ran Red features songs penned by Tomlin, Cash, Matt Redman, Jonah Myrin, Ben Glover, Jason Ingram and Ben Fielding. A special Deluxe Edition will feature the full-length studio album along with four additional tracks.
Love Ran Red Track Listing:
1. Greater
2. Waterfall
3. At The Cross
4. Jesus Loves Me
5. Boundary Lines
6. Almighty
7. The Roar
8. Fear Not
9. The Table
10. Psalm 100
11. I Will Boast
12. Jesus This Is You
Accumulating more than 13 million album and digital sales and having his songs sung by over 40 million people in churches each week has propelled Tomlin into a category all his own but also one that continues to humble him and increase his desire to make music for the church. The first single from Love Ran Red, "Waterfall," does just that and has already seen top ten radio success. The follow-up single is impacting radio this week, and while its title, "Jesus Loves Me," may make you think of another well-known song, it's a brand new, original track.
Tomlin premiered the album to a VIP crowd in Nashville this past Friday with live performances of several songs. sixstepsrecords' Chief Strategist Shelley Giglio and Capitol Christian Music Group President Peter York surprised Tomlin with plaques certifying the RIAA Platinum certification of his songs "How Great Is Our God" and "Our God," as well as the RIAA Gold Certification of "Indescribable," "Amazing Grace (My Chains are Gone)," "I Will Follow," "I Will Rise," and "Whom Shall I Fear (God of Angel Armies)."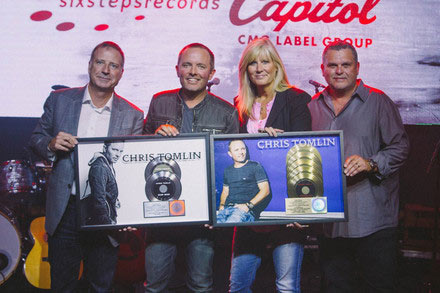 L to R: Bill Hearn, Capitol Christian Music Group President & CEO; Chris Tomlin; Shelley Giglio, Chief Strategist, sixstepsrecords; Peter York, President, Capitol Christian Music Group
Tags : Chris Tomlin Chris Tomlin waterfall chris tomlin love ran red Chris tomlin news chis tomlin new album chris tomlin new album tracklist chris tomlin jesus loves me chris tomlin new album