Jesus Culture's Chris Quilala Announces Debut Solo Album
Jesus Culture's Chris Quilala will release his first solo album 'Split The Sky' on 11th November. The 12-track album includes first single 'Because Of Your Love', which is accompanied by a music video (see below) and is available on iTunes.
For the last decade, Chris Quilala has been a central part of Jesus Culture as one of the founding worship leaders. Jesus Culture has recorded 13 live worship albums, selling over a million albums and impacting lives around the world. He is most well-known for songs such as "Your Love Never Fails" and "Fierce."

This Fall, Chris releases his first solo album that will be somewhat of a departure from the previous live albums he has been a part of with Jesus Culture. On this studio album, Chris musically explores the indie-pop side of his musical tastes, while lyrically focusing on a contemplative expression of encountering God's love.

Chris Quilala is an artist on the Jesus Culture Music label and serves as worship pastor for Jesus Culture Church in Sacramento, CA. Chris has been involved in Jesus Culture since it was founded and he is an integral part of the Jesus Culture leadership team. He is a talented and anointed worship leader and musician with a love for the presence and power of God. He has a heart to write songs that will bring freedom and strength to the local church.
SPLIT THE SKY song listing:
Welcome Here
After My Heart
Because Of Your Love
Won My Heart
Only One God
Encounter
Surrendered (ft. Kari Jobe)
The Length of the Cross
Reign
Heart's Cry
All To You
Heaven Came For Me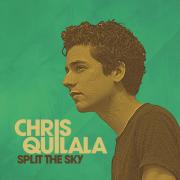 Tags : Jesus Culture chris quilala split the sky because of your love chris quilala new album