Sally Quick Pays Tribute to Legendary Songwriter Dottie Rambo with New Album
Sally Quick has just released her band new album, "A Tribute to Dottie Rambo." This newly recorded project features Quick tackling the songs of the legendary songwriter Dottie Rambo. Along with husband Buck and daughter Reba, Dottie Rambo formed the award-winning southern Gospel group, The Rambos. She wrote more than 2,500 songs, including her most notable, "He Looked Beyond My Fault and Saw My Need", "We Shall Behold Him", and "I Go To the Rock".
This new record features Quick putting her signature touches on 10 Rambo classics. What began as a search for one or two songs to complete a new record eventually became a tribute project. "Every song I heard meant so much, that I wanted to gather them in one collection for another generation," says Sally. She believes listeners will find hope and encouragement through these songs that feature some of Nashville's finest singers and musicians.
The project boasts a stellar lineup of guest singers including Gaither Homecoming Artists Reggie and Ladye Love Smith, Gale Mayes, and Angie Primm, along with Elaine Wilburn, Misty Freeman, and many more.
Sally has not only been busy in the studio and transitioning to solo ministry, but she is working hard to finish her Bachelor's in Business Administration at Liberty University. She will graduate May 2018 at the beautiful Liberty campus in Lynchburg, VA.
Songlist:
1. The Holy Hills
2. When I Lift up My Head
3. Remind Me, Dear Lord
4. I Go to the Rock
5. Sheltered in the Arms of God
6. I Just Came to Talk with You Lord
7. New Shoes
8. He Looked Beyond My Fault
9. Too Much to Gain to Lose
10. I Will Glory in the Cross
More information on Sally Quick can be found at www.sallyquick.com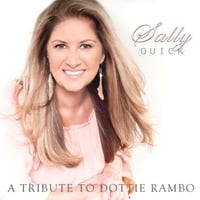 Tags : sally quick sally quick new album dottie rambo tribute to dottie rambo