John Quinlan Releases New Book "Tau Bada: The Quest and Memoir of a Vulnerable Man"
When John Quinlan's publicly traded company failed in 1985 his employees were hurt and his friends scattered. His marriage soon dissolved, removing his young stepdaughter from his life. With the need to withdraw from the public humiliation as well as to mend his heart, Quinlan set out on a quest that took him to places few have traveled, or even imagined.
"The 'Tau Bada' tale I'm about to share is not simply an achievement or an outcome, or a recipe for the attainment of goals and self-improvement, or even a romantic happy ending. It is about the quiet transitions to real courage and the soul milieu that connects and binds us as mutual occupants of a shared planet."
Thus begins Quinlan's book Tau Bada, The Quest and Memoir of a Vulnerable Man. Tau Bada means "big white man," which is what Quinlan is when he meets up with the tribes of Papua New Guinea's Oro Province, north of Australia.
Realizing his relationships are shallow and that he doesn't really know himself - or like what he knows - Quinlan leaves his posh lifestyle in Grosse Pointe, Michigan, to travel across the US on his motorcycle on a personal trek to self-discovery. Out west, he meets and falls for Fiona Delaney, a Papua New Guinea native who is working with a group of girls with disabilities. The instant bond with her is so strong that, in Quinlan's words, "It's like magic."
Following his heart, John and Fiona, who eventually marry, travel through the South Pacific determined to create a sustainable livelihood business, since Fiona's visa was no longer valid for the US. They make an attempt at a fishing business before settling on coffee exporting in Papua New Guinea. There, Quinlan uses his expertise as a businessman to pull together over 2400 people from numerous different tribes to form a business focused on coffee collection, processing, logistics and export. What he doesn't count on are the cultural differences or the aura of fear and mistrust that surround some of the tribes regarding this "big white man", as well as each other. Or - closer to home - the greed and vengeance that are apparently equivalent across the globe, whether in a boardroom in Grosse Pointe, Michigan or a tribal hut in the PNG mountains.
Fiona, a strong partner in both business and life, proves to be the rock John thought she was when he first met her. Her resiliency gives her the titles of "The Woman Who Would Not Be Shot" and for her outspokenness as a businesswoman, she is called "The Man in a Woman's Body" by the tribes people where they worked in Papua New Guinea.
Michigan-born author John E Quinlan makes his literary debut with a book so fascinating on every level that he calls up the spirit of adventure in all of us while at the same time carrying the standard for being genuine and trusting of ourselves and authentic with others. -Grady Harp, Amazon Top 100 Hall of Fame Reviewer
Fraught with intrigue, danger, humor and of course, the power of love, Quinlan's book is both a philosophical look at his inner man, and a page-turning adventure as they are shot at, participate in a tribal ritual to wipe a curse from their village, and fall at the hands of betrayal, sabotage, and even attempted murder. (All of this happens over the seven years he and Fiona run their businesses in the South Pacific, while Quinlan still keeps a finger in the corporate world in the U.S)
Quinlan, now an organization development specialist and the owner and CEO of Growth Strategies Global LLC in the United States, uses his 30 years of consulting experience to advise business owners, specializing in family-founded and closely held businesses.
"The world does not count mishaps or misfortunes, no matter how much you contributed," says Quinlan. "It makes you feel foolish for contributing, for being vulnerable." And yet being vulnerable is exactly what Quinlan works on with individuals when he consults.
"I find it fascinating to go into their inner sanctum where they can drop their guard and be real with me," says Quinlan. "Then I can shift it to business practices. What do you want to talk about? Customer relations?"
Once employers and their employees are ready to open up, show their vulnerabilities, and discuss what it is they really want for their company, then Quinlan moves on to the logistical aspects of work. Some of his current clients include: Harvey Hohauser & Associates; Tarus Products; McClures Pickles and Merlo Constructions.
When asked if he has any regrets about his life's journey, Quinlan replies, "I'm feeling distinguished. It was worth it. It was well worth it. It has enriched my life and individuated me to a higher degree."
He is once again thriving, and although he is back at the top of his game, he says he will never be that same shallow man who started off on his motorcycle back after his first fall. His heart has changed, and whether in business or in life, he strives to remain vulnerable.
Tau Bada: The Quest and Memoir of a Vulnerable Man (ISBN 978-1-63413-956-4, 2016), MCP Books, paperback, 333 pages, available at Amazon, Barnes & Nobel and the author's website: http://www.TauBada.com View the book trailer here: http://bit.ly/TauBadaBookTrailer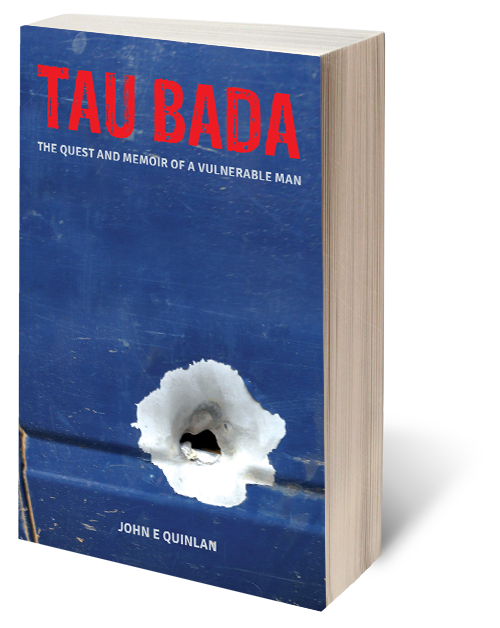 About John E. Quinlan
John E. Quinlan is the founder and CEO of Growth Strategies Global LLC, an organization development consulting firm that specializes in family-founded and closely held businesses. He has been a founder and chief executive officer of a publicly traded company, a leadership coach, and a management consultant in the United States, and owned a fishing business and a coffee plantation in the South Pacific. After the humiliation of losing his publicly traded company in 1985, Quinlan began a motorcycle trek through the United States - a quest for self-discovery that led him to the woman he would marry. What he learned on his travels over the past 40 years turned into the book Tau Bada, and gave him the strategies he uses today that make him so successful as a consultant. Married to Fiona, he has three stepdaughters and resides in Grosse Pointe, Michigan and in Cairns, Australia.
Tags : John Quinlan Tau Bada The Quest and Memoir of a Vulnerable Man John Quinlan book John Quinlan author