Author David Hodge Shares Timeless Truths About How We can Leave a God-Honoring Legacy
In the new book, Your Legacy: Designing a Life That Honors God, Blesses Others, and Brings Joy to Your Own Soul, leadership expert David Hodge offers a practical guide to leaving your world a better place. The book is available now in hardcover from Discovery House Publishers / Our Daily Bread Publishing.
Your Legacy is a practical blueprint for intentionally building a life that influences others. Hodge guides readers in understanding what a legacy includes and coaches them on how to create their own. He writes with warmth as he highlights a biblical model of leadership and shares real-life examples of influence. This book includes questions for reflection and guided exercises to help readers take the next step. Your Legacy provides the tools needed to impact future generations and glorify God.
Q: Thanks David for doing this interview with us. You are the founder and president of Anchor Leadership. Tell us a little about Anchor Leadership.
Thank you for inviting me! Anchor Leadership is a people development firm. We equip influencers to lead their teams from a character-driven approach. We customize training, mentoring, and coaching for companies and ministries.
Q: Who are some of the clients you have worked with? How have you helped them?
Our most recognizable clients include Chick-fil-A, The Salvation Army, and the United States Army. Our clients are from diverse industries including healthcare, foodservice and construction. We help our clients by enhancing people and leadership skills. We are blessed that many of our clients have partnered with us for well over a decade.
Q: Congratulations on the release of your new book. What is a legacy?
Thank you! A legacy is what we leave behind for others and it's more than just our possessions. It includes the ways we invest in the people around us from an eternal perspective. My book is designed to help people make a difference that truly lasts.
Q: Does everyone have a legacy? How do you discover your legacy?
All of us leave something behind for others. We discover our current legacy with honest reflection and prayer or by asking those we trust how we are treating others. The encouraging news is that at any moment we can change the direction of our legacy. The primary purpose of my book is to design a life that honors God, a life that reflects His nature and character to others.
Q: Why is leaving a legacy important?
Ultimately our lives are a reflection of what is most important to us. Jesus said our hearts will focus on what we value. If we value a God-honoring legacy, it will drive our daily routines and practices toward lasting results in the lives of others.
Q: You also speak of how our legacy can bring joy to our souls. How is this so?
True joy comes when we know and do what pleases God--every day. A God-honoring legacy is primarily focused on loving God and others. Our joy comes from the affirmation we receive from God. The writer of Hebrews said it well: "God is not unjust; he will not forget your work and the love you have shown him as you have helped his people and continue to help them." (Hebrews 6:10 NIV). God notices the good we do for others in His name. This encouragement from God can bring tremendous joy to our hearts.
Q: How can your new book help us in leaving your legacy?
Over the past 25 years, I've been blessed to travel all over the world speaking to various groups and spending a lot of time with leaders and participants individually. As I've listened to personal stories, it's clear that the vast majority of people want to make a positive impact on their world. Yet I've learned that very few have an intentional plan. This book is a biblically-based, practical guidebook to help make that happen.
Q: What is your own personal legacy? How have you been leaving your own legacy?
As a young adult, I lived a very self-centered lifestyle and I'm grateful my story didn't end there. Everything changed when I decided to give up my own way and follow Jesus fully. When we are fully focused on a God-honoring legacy, we rarely ponder our personal legacy. We trust that God is impacting lives through us and that we are leaving behind something very meaningful simply because it pleases Him. All the credit for the positive impact of our lives goes to God and to God alone. This is what makes following Jesus so profoundly meaningful, it has eternal impact. The Apostle Paul said in 1 Corinthians 15:58 (NLT) that "nothing you do for the Lord is ever useless."
For more information, visit https://ourdailybreadpublishing.org/yourlegacy.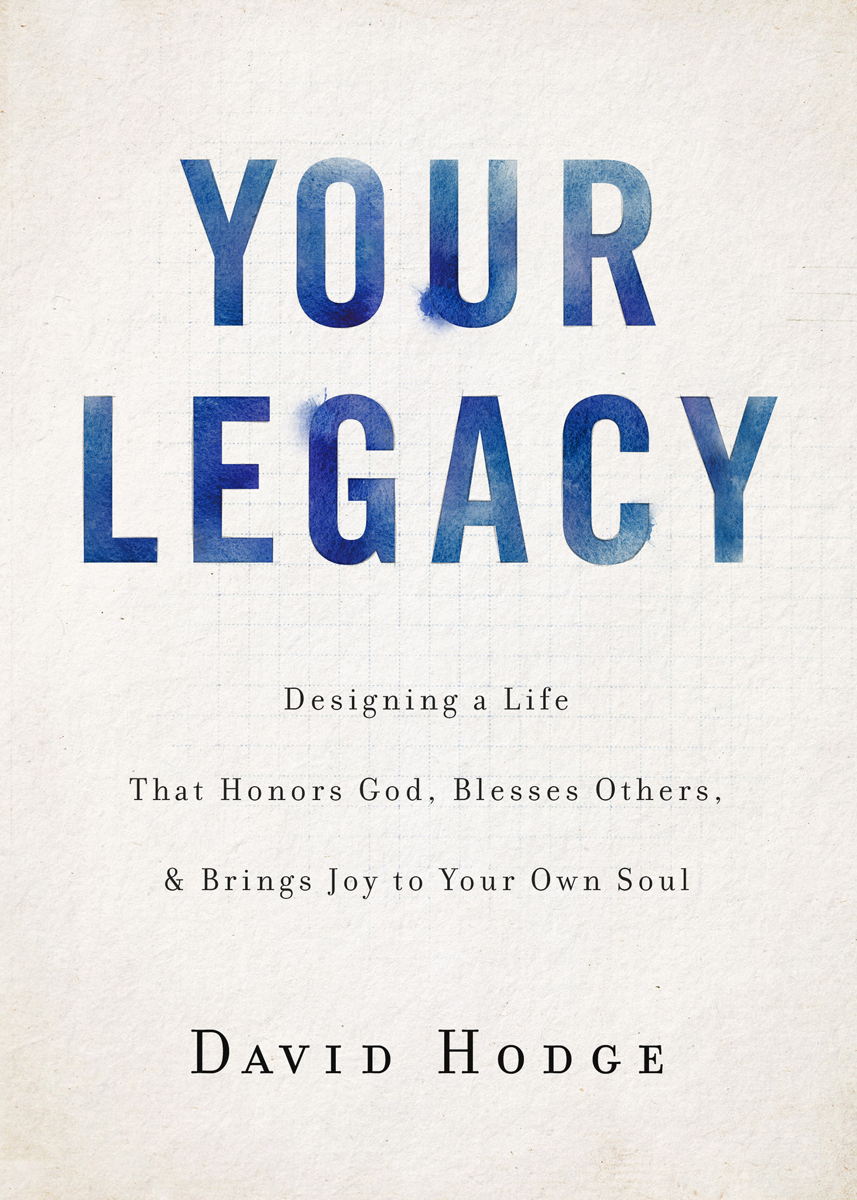 Tags : David Hodge David Hodge new book david hodge interview Your Legacy: Designing a Life That Honors God Blesses Others and Brings Joy to Your Own Soul david hodge legacy