Zach Williams Releases Anticipated New Single "Resue Story"
Multi award-winning artist and songwriter Zach Williams has announced the release of "Rescue Story," his brand new song that is now at radio stations across the U.S. and at all digital and streaming platforms. "Rescue Story" is the first to release from Williams' upcoming album, slated to release this fall.
The wait is now over for fans who have been eager to hear new music from Williams , whose latest release was the GRAMMY®-nominated EP, 2018's Survivor: Live from Harding Prison. He recently shared the story behind the new song, "I think the song is going to be relatable to people because everybody has their own rescue story. Mine is the same as anyone who's been in a hopeless place, and then they found Jesus."
Williams continues, "I found myself at the end of my rope almost seven years ago touring in a rock & roll band. On the outside, everyone thought I was completely happy but on the inside, I was a wreck and a miserable person. It wasn't until I found Jesus when I was truly happy and able to enjoy the things in life that I'm now doing. Before I didn't even enjoy playing music, I left every night with an empty hole. Now, I get to leave fulfilled every single night. When people share their own rescue story with others, it can hopefully bring someone else into a relationship with Jesus."
Every time I ran away, You were louder than my shame // And now, where would I be without you Jesus?You are the voice in the desert, calling me out in the dead of night // fighting my battles for me // You are my rescue story. Lifted me up from the ashes, carried my soul from death to life // bringing me from glory to glory // You are my rescue story.- select lyrics from "Rescue Story" (written by Zach Williams, Jonathan Smith, Ethan Hulse, Andrew Ripp)
Leading up to his new single, earlier this week Williams attended Nashville's annual BMI Christian Awards (pictured here), which recognizes artists, songwriters, and publishers for their work over the past year. Along with performing at the event, Williams was awarded four Citation of Achievement certifications for his RIAA certified gold singles, "Old Church Choir" and "Fear Is a Liar." It was just a mere three years ago when Williams rapidly made a name for himself with his record-breaking debut single, "Chain Breaker," following it up with two more award-winning songs, "Old Church Choir" and "Fear Is a Liar." Two versions of his debut album have released, Chain Breaker and the Deluxe Edition, as well as an EP, Survivor: Live From Harding Prison.
Williams has earned a coveted GRAMMY Award (2018) and two additional nominations (2017, 2019), and has won four GMA Dove Awards, two K-LOVE Fan Awards, three gold singles, and numerous other nominations and recognition, all which quickly made him a household name and a staple at radio. As he releases the new single and readies for his fall release, Williams will continue to tour this summer and fall, hitting all of the major festivals in the U.S. and Canada. For the most updated schedule, please visit his tour page.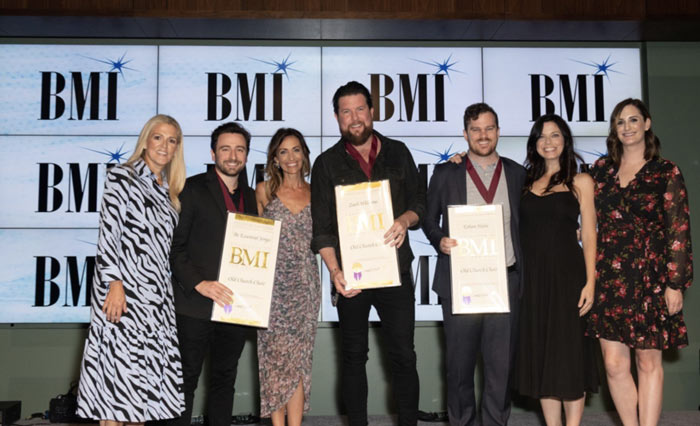 L-R: BMI's Leslie Roberts, songwriter Jonathan Smith, Essential Music Publishing's Holly Zabka, Williams, songwriter Ethan Hulse, EMP's Jamie Rodgers, and MaryAnn Keen of BMI

Tags : "Resue Story" zach williams zach williams news zach williams new single