Nicol Sponberg, Formerly of Selah, Talks About Her New Hymns Album "Awaken My Soul"
Formerly a member of her brother's band Selah, Nicop Sponberg is back with her new hymns album "Awaken My Soul." Sponberg, also known under her maiden name Nicol Smith, is best known for her 2004 album Resurrection and the title song "Resurrection". The third single from her solo album Resurrection, "Crazy In Love", crossed over to peak at No. 13 on the Billboard Adult Contemporary chart and was one of the Top 30 most played adult contemporary songs of 2006.
Hallels: What led you to record a hymns album?
There's just something reassuring and calming about singing songs that you've known since childhood. Singing hymns is like therapy. Yes, they're deep and and have such sound theology, but so many were written from heartache. I think that's a big reason why they've stood the test of time. The words to those songs mean more to me than ever.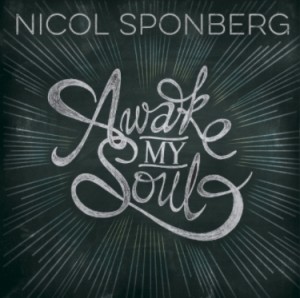 Hallels: "Awaken My Soul" is released via Discovery House, while most of your solo efforts were with Curb. Why did you choose to work with Discovery House?
A music industry aquaintance who works for DIscovery House contacted me about doing a project. I've always admired this person's family, and was so honored to get to record again. Getting the chance to do another project--that wouldn't require me to do a huge promotional tour--was a wonderful, very unusual thing. I've been so impressed with the people at Discovery House. The video crew from DH flew down to do a shoot footage for one of the songs and an interview. The director would defer to the cameraman, and vice-versa... Everyone pitched in to do what had to be done and worked as a team. They were the kind of people you want as friends long after what you're working on is wrapped up.

Hallels: Of all the numerous hymns out there, how did you narrow down your choices?
I wanted to sing hymns that I'd never recorded before. "In the Garden," "Sweet Hour of Prayer," and "He Leadeth Me" are personal favorites. My husband and I are coming out of a long period of feeling like we were living life in limbo or in a wilderness... of asking what does God want us to do next?..."He Leadeth Me" always reminds me that He ultimately is going to get us to where we need to be.

Hallels: I absolutely love "Sweet Hour of Prayer;" your rendition is so soulful. What's the significance of this hymn to you?
Thank you so much. I love this song! We have three wonderful girls, and the youngest are four and two, so right now in my life, its's more like "Sweet Twenty Minutes of Reading/Prayer..." But even that short time can give grace and strength that I wouldn't have had otherwise... Grace that this early morning-hating, cranky Mama so needs!
This year, I've really enjoyed reading a collection of letters by a woman named Laine ("Laine's Letters"). After almost losing a child, she promised to get up early to spend time reading the Bible and praying. At first she didn't see any big changes, but eventually, she completely fell in love with Jesus and His Word. It changed her. Her family changed. It changed the whole atmosphere of their home and life. Oh, how I need for Him to change me! The way she describes it makes it so inviting...not a chore at all...I think this song has the same inviting way about it. He "calls us from a world of care..." "In seasons of distress and grief, my soul has often found relief..." There is such relief when I've cried out my fears, sorrow, you name it... to Him.

Hallels: Having carved out your own solo career, have you ever thought about re-uniting with Selah for an album or a song down the line?
Well, I love the flexibility that comes with not being part of a group. It allows for a lot more time with my family.

Hallels: For our readers who would like to check out your new album, where can they go?
Besides Amazon.com or itunes, get "Awake My Soul" here: https://dhp.org/awake-my-soul-cd.html
Tags : nicol sponberg Selah awaken my soul nicol sponberg awaken my soul nicol sponberg interview nicol sponberg news