"Once-A-Day Country Faith - 56 Reflections From Today's Leading Country Music Stars" Book Review
First Posted: Nov 08, 2013 11:23 PM EST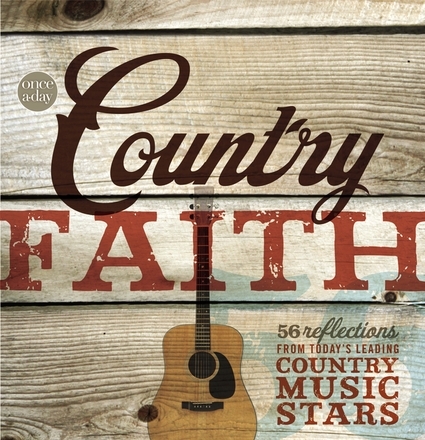 The country stars featured in Zondervan's first ever country devotional book read like a Who's Who of Country music. Fifty-six of the biggest names in the genre share their favorite Bible scriptures and, even better, why they are important to them.
For Kimberly, Reid and Neil - The Band Perry - it's a verse from James that has kept them going through the long nights. Rory Feek from Joey + Rory has always felt led by a verse from 1 Samuel. Jimmy Wayne, once homeless, has been on the receiving end of a verse from the first chapter of James, so it leads him as he reaches out to help others.
Fifty-six artists, 56 Scriptures and 56 snapshot stories that give you readers a glimpse into the hearts of these talented artists. Country Faith isn't just for fans of country music; it's for fans of people and those who believe that with God, anything is possible. It's for people who want to be lifted up on a daily basis.
Release date: November 5, 2013
Publisher: Zondervan
Total Pages: 128 pages
Suggested retail price: $12.99 (A portion of the sales will benefit American Idol alum Danny Gokey's charity, Sophia's Heart Foundation. Gokey started the foundation after the death of his first wife from a heart condition in 2008. It exists to serve children and families who have been touched by poverty, sickness, disease, broken homes and broken dreams.)
The artists and bands that share their Scriptures and stories are:
Alan Jackson
Barbara Mandrell
Bellamy Brothers
Billy Dean
Billy Ray Cyrus
Brad Paisley
Canaan Smith
Carrie Underwood
Charlie Daniels
Cherrill Green (from Edens Edge)
Collin Raye
Craig Morgan
Danny Gokey
Darius Rucker
Doyle Lawson
Duane Allen and Richard Sterban (from The Oak Ridge Boys)
Dustin Lynch
Easton Corbin
Eric Paslay
Florida Georgia Line
Gene Watson
Guy Penrod (from the Gaither Vocal Band)
Hunter Hayes
Jamie O'Neal
Janie Fricke
Jason Crabb
Jimmy Wayne
Joanna Smith
Joey Martin Feek and Rory Lee Feek (from Joey + Rory)
John Berry
Josh Turner
JT Hodges
Keni Thomas
Keifer Thompson
Kimberly Schlapman (from Little Big Town)
Kristy Lee Cook
Larry Gatlin (from The Gatlin Brothers)
Lauren Alaina
Lee Brice
Lee Greenwood
Lorrie Morgan
Marty Raybon
Miranda Lambert
Neal McCoy
Phil Vassar
Randy Owen (from Alabama)
Ray Stevens
Rodney Atkins
Sara Evans
Scotty McCreery
The Band Perry
The Roys
Trisha Yearwood
Wynonna
© 2013 Hallels All rights reserved. Do not reproduce without permission.