Stella Parton Discovers An Album Worth of Unreleased Gospel Songs from the 70s
Stella Parton, the younger sister of country music superstar Dolly Parton, discovered in her archives a treasure trove of songs that have never been released. All the songs on this new CD were recorded in the 70s before she scored big hits on the country charts herself. Now, this collection of songs is made available on a newly released CD entitled "Old Time Singing."
Parton began her career recording Gospel music with family members and you can hear the true Appalachian sound come through in this unique work of art. Stella Parton wrote six of the ten Gospel songs and recorded two that her Aunt Dorothy Jo wrote. Stella co-wrote "The Choice" with her cousin Dale Puckett and it is sure to be a favorite of the collection. One of the songs, "Timothy" was written by Stella Parton about her son that shows the love in a mother's heart.

These songs were recorded when Stella Parton was 21 and never released because soon after finishing these songs she wrote her first big hit. With the success of "I Want To Hold You In My Dreams" she changed course to sing more Country music. Listen and enjoy the down to earth vocals and harmonies on this rare collection.
Tracklist:
1. Old Time Singing
2. Try Him You'll Like Him
3. The Choice
4. Happiness Is Loving Him
5. How Great Is Jesus
6. Big Success for Jesus
7. Timothy
8. Now I Have Everything
9. He Touched Me
10. It Wasn't Raining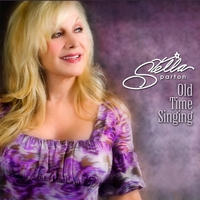 Tags : stella parton dolly prton old time singing stella parton new album stella parton news stella parton faith